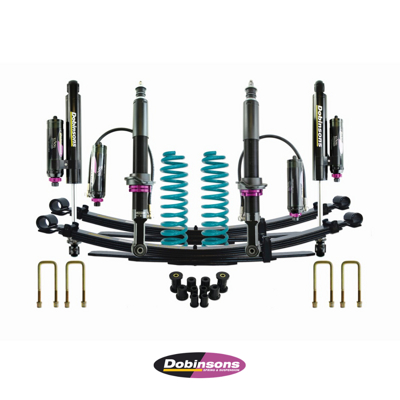 Dobinsons (2"/50mm) Monotube Remote Reservoir (MRR) Lift Kit to suit Ford Next Gen Ranger 2022 Onwards
From $2,821.73
Dobinsons (2"/50mm) Monotube Remote Reservoir (MRR) Lift Kit to suit Ford Next Gen Ranger 2022 Onwards
Dobinsons Monotube Remote Reservoir Lift Kits are a premium suspension upgrade designed for off-road enthusiasts seeking superior performance and reliability. The monotube design of these kits allows for greater heat dissipation, while the remote reservoir ensures consistent performance even in the most demanding conditions.
With a focus on durability and precision engineering, Dobinsons Ford Next Gen Ranger lift kits provide exceptional handling and ride quality, making them the perfect choice for serious off-roaders. Whether you're conquering rocky terrain or navigating through deep mud, Dobinsons Monotube Remote Reservoir Lift Kits will help you push your Ford Next Gen Ranger to the limit with confidence.
Benefits & Features 😍
✅Designed to provide superior handling and stability on rugged terrain
✅Remote Reservoir allows for the shock to operate at cooler temperatures, meaning more consistent performance
and less fade during long off-road adventures
✅Manufactured from high-quality materials to be able to withstand extreme off-road conditions
✅Increased shock capacity
✅Remote Reservoirs provide additional oil and gas capacity to help improve shock performance
✅Increased ground clearance
Ford Next Gen Ranger Lift Kit Components
✅1 x Front Coil Springs
✅2 x Front Shock Absorbers
✅2 x Rear Shock Absorbers
✅2 x Rear Leaf Springs
✅2 x Front Bump Stops
✅2 x Front Strut Top Cap
✅2 x Front Strut Assembly LAB - ASSEMBLE STRUT
✅1 x Rear Shackle Bush Kit
✅2 x Rear Shackle
✅2 x Rear Pins
✅1 x Front & Rear Brake Line Extension
✅2 x Rear U-Bolt Kit
✨Dobinson Lift Kit Warranty Information
Wanting to find out more information about your Dobinsons Ford Next Gen Ranger Lift Kit's warranty? Click Here
👨‍🔧Installation
Once the lift kit has been purchased, someone from our sales team will be in touch to organise our next available installation date. Please allow one business day for your Dobinson lift kit to be completed on the day of your install.
📦Packaging & Shipping✈️
When purchased, this suspension lift kit will be delivered via one of Modkingz's trusted transportation companies. This is an all-inclusive service, designed to ensure extremely fast delivery of your order. Your suspension components will be packaged as securely as possible to make sure your items are protected during transit, we recommend adding freight insurance to your order to cover possible damages.
ℹ️ Additional information
Please note, depending on your vehicle requirements you kit may need additional items which may incur an additional cost. If you have any further questions regarding lift kits, we recommend giving us a call on 02 8880 4628 or click here to find out more information.
Want to know more about this Dobinsons MRR Lift kit? Watch the video below 🎬👇
CODE: