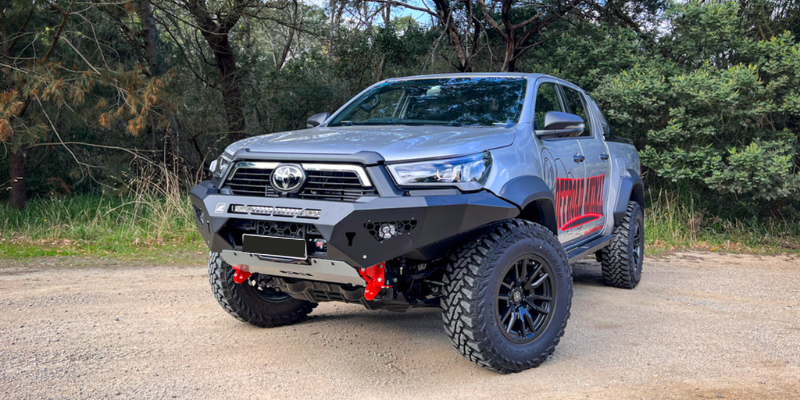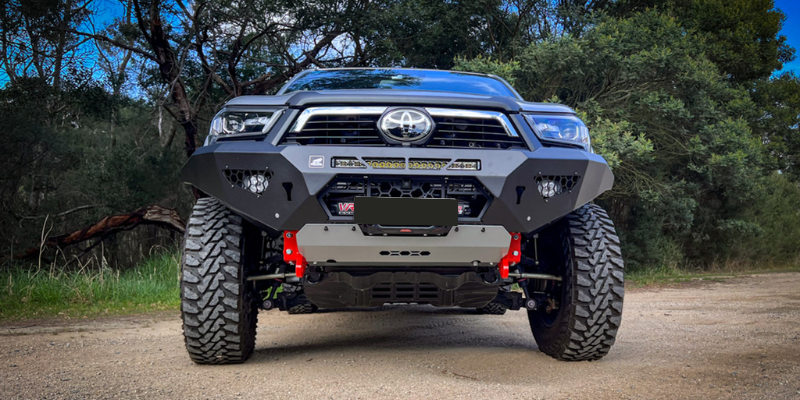 Offroad Animal Predator Bullbar suitable for Toyota Hilux Rouge N80 2022 Onwards (MY23 Wide Body Versions)
$2950
The Toyota Hilux Rouge is one of the sexiest 4x4's on the market, why not make yours stand out with the Offroad Animal Predator Bullbar 🔥🦍
⭐Benefits⭐
✅Looks (Unleash the beast)
✅Light weight
✅Durable
✅Better Airflow
✅Easy and effortless fitment of bar and winch
✅Winch can be conveniently fitted after bar
✅Winch mounts feet down
✅Can have LED light bar fit inside bar (up to 22" LED single row)
✅Cover plate included for customers who do not wish to run LED light bar
✅Can have LED light bar fitted into optional top stealth hoop.
🔥 Features🔥
✅ADR compliant
✅Airbag compatible
✅Suits all Technology including Autonomous emergency braking ( AEB)
✅Bumper replacement, with no cutting of bumper.
✅Optional top hoop- Stealth hoop which takes up to a 22" LED light bar single row, or 2" round tube. If you have
adaptive cruise radar and a top hoop make sure you select the correct option as we can supply a taller stealth hoop.
✅Welded one piece bar with welded wing supports for super toughness
✅Zinc plated then powder coated Matte black
✅Hi lift jacking points included
✅Works with factory fog lights or easily mount 2 Cube lights (per wing) or up to an 8" LED light bar in each wing
(single row.)
✅Number plate flip included for those running a winch
✅Can be colour coded to vehicle (Please note, this will incur an additional cost $850 and takes 8-12 weeks)
✅20mm steel tow hooks included on mounts
🎁Included in box🎁
1 x Front bar weldment
1 x LH chassis impact bracket
1 x RH chassis impact bracket
1 x Mesh fairlead mount
1 x Mesh infill LH
1 x Mesh infill RH
1 x Light cover Mesh LH
1 x Light cover Mesh RH
1 x Fog lamp bracket LH
1 x Fog lamp bracket RH
1 x Centre bash plate
1 x Under wing panel LH
1 x Under wing panel RH
1 x Chassis brace LH
1 x Chassis brace RH
1 x Winch control box bracket
1 x Number plate flip
All required nuts and bolts
This Offroad Animal Bullbar suits:
Toyota Hilux Rouge N80 2022 Onwards (MY23) Wide Body models.
While the bumper takes most single row led light bars (we suggest the Offroad Animal 22" LED light bar)
Stealth top hoop has same arrangement for led light bar, fitting most single row light bars, but we suggest the Offroad Animal 22" LED light bar
⚠️If you do not wish to run a light bar please make sure you mention this in the additional information section at check out⚠️
⏳Install time: 3 hours
👨‍🔧Install difficulty: 5/10
🗒Fitting instructions coming soon
CODE: OAPBBTHLXWBMY23+
Dimensions
| | |
| --- | --- |
| Length | 210 cm |
| Width | 77 cm |
| Height | 65 cm |
| Weight | 57 kg |