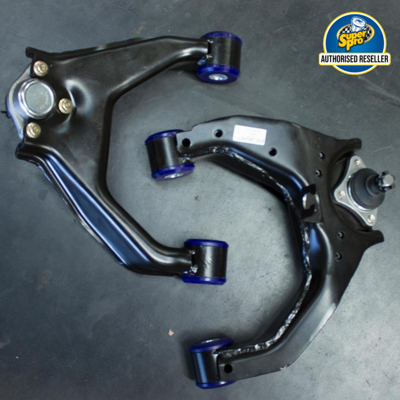 SuperPro Front Upper Lift Correction Control Arm Kit to suit Mitsubishi Triton ML, MN, MQ, Pajero Sport QE & Challenger PB
$922.62
Front Upper Lift Correction Control Arm Kit to suit Mitsubishi Triton ML, MN, MQ, Pajero Sport QE & Challenger PB for vehicles without headlight sensor
Thanks to SuperPro, you never have to worry about not getting the correct alignment!
These Front Upper Lift Correctional Control Arms provide vehicles with better wheel alignment settings, they have also been manufactured to incorporate an increased droop and clearance between the strut and arm.
These SuperPro Correctional Control Arms achieve up to 2° of caster as well as increased camber, allowing for optimal alignment settings on vehicles lifted 2 Inches.
Features:
✅ Lifetime Warranty
✅ Increases your 4WD's Performance & Handling
✅ Designed to resolve wheel alignment issues when lifting your 4x4
✅ High grade steel for improved strength
✅ Included Bushings Kit by SuperPro to reduce the amount of arm movement
✅ Increased clearance between control arms and springs when at full articulation
Includes :
✅ Built-In Camber and Caster to suit your lifted vehicle
✅ In-Built droop increase of approximately 10mm
✅ Included SuperPro Shortened Droop Stop for extra droop clearance
✅ At full articulation, increased clearance between springs and control arms
✅ Quality Ball Joint
✅ Bushings Kit (SuperPro)
✅ Designed and manufactured in Australia
✅ Headlight sensor bracket mounted onto RH (Right hand) Control Arm
This SuperPro Front Upper Lift Correction Control Arm is suitable for Mitsubishi Triton ML, MN & MQ, & Mitsubishi Pajero Sport QE & Mitsubishi Challenger PB (Models without headlight sensors ONLY). This Control arm is the perfect addition to Mitsubishi Triton Lift Kit, Pajero Lift Kit & Mitsubishi Challenger Lift Kit. 👌
⚠️ When increasing the lift of a vehicle, the suspension geometry is permanently altered, which can cause alignment issues. When installing a lift kit, a control arm must also be installed to prevent alignment issues. ⚠️
⚠️SuperPro strongly advises that both control arms be replaced together to maintain correct suspension geometry and prevent alignment issues ⚠️
ℹ️ Want to find out more about this SuperPro Control Arm? Watch the video below 👇🎬
CODE: TRC500
Dimensions
| | |
| --- | --- |
| Length | 46 cm |
| Width | 42 cm |
| Height | 19.3 cm |
| Weight | 9 kg |