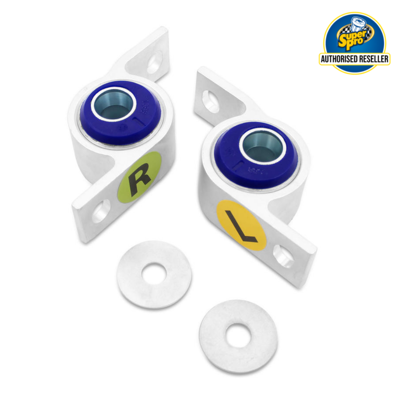 SuperPro Control Arm Lower Rear-Bracket Mount and Bush Kit to suit Subaru Liberty & Impreza
$265.12
Control Arm Lower Rear-Bracket Mount and Bush Kit to suit Subaru Liberty & Impreza
SuperPro offers a wide variety or replacement control arm bushings for a large selection of vehicles. These replacement bushings are fabricated from high-quality polyurethane elastomer, which provides multiple advantages compared to standard rubber alternatives.
While standard rubber bushings do have extraordinary abilities to hinder noise and vibration, they are produced from soft rubber, which can compress into itself. This compression produces micro tears which worsen overtime, causing the rubber to deteriorate. Polyurethane elastomer bushings on the other hand, while still designed to provide alike noise and vibration reduction, are able to flex and move while not compressing, or deforming. These bushings improvements allow for an enhanced driving experience, with increased responsive handling and significantly longer service life.
Features:
✅ Lifetime Warranty
✅ Enhanced vehicle performance and handling
✅ Resistant against excessive temperatures, coolant, water and vehicle oils
✅ Higher quality polyurethane elastomer bushings
✅ Designed, tested and produced in Australia
✅ Longer lasting service life
This Control Arm Lower Rear-Bracket mount and bush kit is suitable for Subaru Impreza & Liberty.
ℹ️ Want to find out more about this SuperPro Control Arm? Watch the video below 👇🎬
CODE: ALOY1388AK