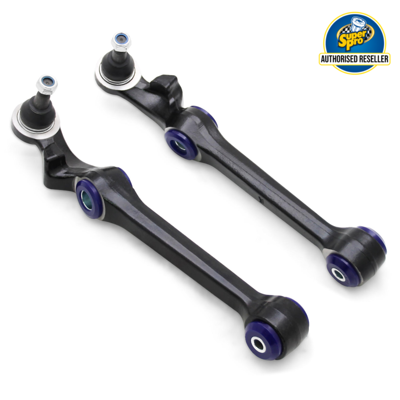 SuperPro Front Radius Arm Kit to suit Holden & HSV
$286.33
Front Radius Arm Kit to suit Holden & HSV
This SuperPro Alloy Front Radius Arm Kit is more stiff and less likely to bend when being compared to Original Equipment Manufacturer (OEM) Steel Control Arms, as they maintain static wheel alignment settings even under the challenging circumstances. Being built for accuracy and best performance, these SuperPro Alloy Control Arms provide drivers with better defined steering, allowing the driver to have more confidence as well as increasing the overall safety of the vehicle.
Features:
✅ Lifetime Warranty
✅ Included Bushings Kit by SuperPro to reduce the amount of arm movement
✅ Manufactured with high strength, corrosion and stress resistant forged aluminium
✅ Enhances your vehicles performance and handling
✅ Significant reduction in arm flex for quicker and more direct steering control
✅ Upgraded Control Arm Design
✅ Designed to be an effortless replacement
✅ Tested, designed and manufactured in Australia
✅ Fitted with SuperPro DuroBall rear bushings to ensure max support and improvements in handling and alignments.
Includes:
✅ Pair of SupePro Alloy Front Radius Arm
✅ DuroBall Rear Bushings Kit (SuperPro)
This SuperPro Front Lower Control Arm is Suitable for Holden & HSV.
⚠️SuperPro strongly advises that both control arms be replaced together to maintain correct suspension geometry and prevent alignment issues ⚠️
ℹ️ Want to find out more about this SuperPro Control Arm? Watch the video below 👇🎬
CODE: TRC1104