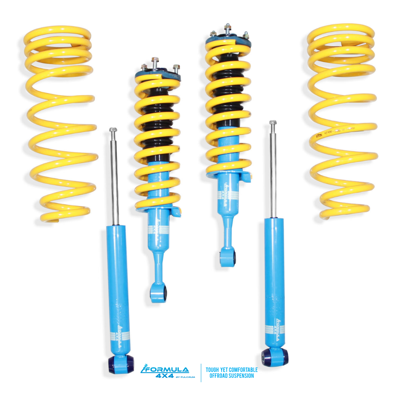 Formula 4x4 (2"/50mm) Ready Strut Lift Kit To Suit Ford Everest 2015 - 07/2018
Contact for best price
2 Inch 50mm Formula ReadyStrut Lift Kit to suit Ford Everest 2015-07/2018
You don't have to stress about ordering the incorrect Ford Everest Lift Kit components, as once you have purchased your formula lift kit, one of our highly skilled 4x4 consultants will contact you to confirm your order details, requirements and your Everest's specifications. To give you peace of mind you are receiving the correct parts to accommodate your individual needs 😀
💎 High Level Product Details
You will find Formula 4x4 by Fulcrum Suspension to be the most comfortable Ford Everest Lift Kit on the market, both on and off-road. This formula lift kit is durable for when you are touring, on tough dirt tracks or beach driving whilst retaining comfort when driving on the road. All Formula 4x4 suspension lift kits are tried and tested, both on and off road and pass the test in harsh Australian conditions. Installing a Formula suspension lift kit will give you an unreal off-road experience.
Everest Lift Kit Components :
✅x2 Pre Assembled Front Struts w/ King Spring Coils
✅x2 Top Mounts
✅x2 Rear Shock Absorbers
✅x2 Raised King Coil Springs
Features 😍
Low Pressure Nitrogen to eliminate fade for better performance and comfortable ride
Designed and built for Australian harsh conditions
Super-Pro Hybrid bushings on all Front Struts
Specifically designed for each application
Formula 4x4 coil springs are designed to accommodate different needs
This Suspension Lift Kit allows you to keep on road comfort whilst retaining durability off-road
Formula 4x4 shocks are designed with Big Bore for better heat expenditure
You will find that this lift kit contains tapered pegs on Front Struts for improved strength
Formula 4x4 lift kits have the ability to handle different loads both front and rear, to accommodate the needs of your Ford Everest. Please mention your 4x4's load needs at the additional information section at the check out.
✨Formula 4x4 Lift Kit Warranty
Want your Ford Everest Lift Kit to come with a 5 year / Unlimited Kilometre warranty ? Activate here
👨‍🔧Installation
Once the lift kit has been purchased, someone from our sales team will be in touch to organise our next available installation date. Please allow one business day for your lift kit to be completed on the day of your install.
📦Packaging & Shipping✈️
When purchased, this lift kit will be delivered via one of Modkingz's trusted transportation companies. This is an all-inclusive service, designed to ensure extremely fast delivery of your order. Your suspension components will be packaged as securely as possible to make sure your items are protected during transit, we recommend adding freight insurance to your order to cover possible damages.
🗒 Lift Kit Fitting Instructions
You will receive a set of fitting instructions with your 4x4 lift kit and information on how to upgrade your warranty when it arrives. The instructions provided are general in nature. It is highly recommended that you get your lift kit installed by a mechanic or suspension technician, preferably with wheel alignment facilities.
ℹ️ Additional information
Please note, depending on your vehicle requirements you kit may need additional items which may incur an additional cost. If you have any further questions regarding lift kits, we recommend giving us a call on 02 8880 4628 or click here to find out more information
CODE: