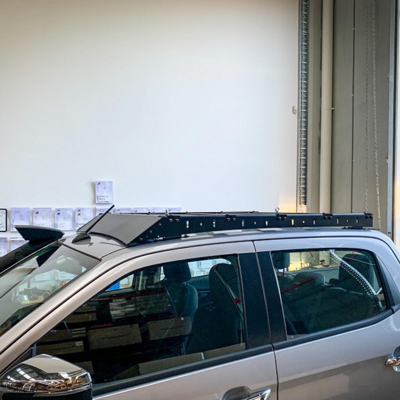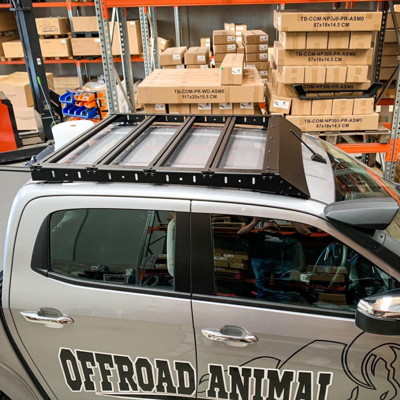 Offroad Animal Scout Roof Rack to suit Mazda BT-50 2021 Onwards
$1450
Offroad Animal Scout Roof Rack to suit Mazda BT-50 2021 Onwards
These Offroad Animal Scout Roof Racks are the best solution for all your roof rack needs!! There's no longer a need to buy noisy and unattractive racks. Not only are these Offroad Animal Roof Racks super quiet, they've also been designed to look absolutely stunning on your vehicle.
These Roof Racks are made from lightweight aluminium, making them easy and effortless to install and low-profile for greater wind resistance. And if that's not enough to convince you, these roof racks come with the option to add on the Offroad Animal Wind Deflectors which can hold a 42" LED Light Bar!!
With these Offroad Animal Scout Roof Racks, your BT-50's Roof is rated to hold 78 kg while on road and 44 kg while off-roading.
Benefits & Features 😍
✅Sleek & Durable Design
✅Completely constructed from Aluminium for lightweight design
✅Easy and Effortless installation
✅Low profile means better wind resistance
✅Only adds 90 mm of height to the top of your vehicle
✅Compatible with many aftermarket accessories
✅Aluminium is powder coated Matte Black
✅Supplied with 5 T-Slot aluminium rails that can effortlessly fit standard T-Nuts to secure gear anywhere
Includes
✅x5 Aluminium Rails
✅x1 Wind Deflector (Not Compatible with LED Light)
✅x2 Side Rails (Left & Right hand side)
✅All required hardware

Optional Additions:
✅Offroad Animal Wind Deflector to suit LED Light Bar (Up-to 42")
✅Offroad Animal 42" Slim LED Light Bar
✅Offroad Animal 42" Double Row LED Light Bar
These Offroad Animal Scout Roof Racks are suitable for Mazda BT-50 2021 Onwards
⏳Installation time: 1-2 Hours
👨‍🔧Install difficulty: 3/10
CODE: OASRRMAZBT-5021
Dimensions
| | |
| --- | --- |
| Length | 132 cm |
| Width | 28 cm |
| Height | 15 cm |
| Weight | 23 kg |