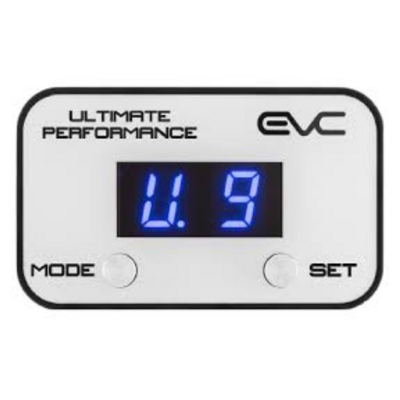 Free shipping Australia Wide ✈️
Ultimate 9 EVC Throttle Controller - EVC611L
MODKINGZ EXCLUSIVE PRICE
$299 $249
Ultimate 9 EVC Throttle Controller - EVC611L
The Ultimate 9 EVC throttle controller, previously known as EVC iDrive, is a powerful and advanced electronic device that is designed to improve the throttle response of vehicles with drive-by-wire electronic throttle systems. With its advanced technology, the EVC throttle controller enhances the signal sent from the accelerator pedal to the vehicle's electronic control unit (ECU), resulting in faster throttle response, improved acceleration, and better overall performance.
The EVC throttle controller is a fully customizable throttle controller that allows drivers to fine-tune the throttle response to their specific driving preferences. The controller features a user-friendly interface with multiple modes, including Eco, City, Sport, and Sport+, giving drivers complete control over their vehicle's throttle response.
With its advanced technology, customizable settings, and easy installation, the EVC throttle controller offers a significant improvement in throttle response and acceleration, making it a perfect upgrade for anyone seeking a more exciting driving experience.
Benefits & Features 😍
✅Effortless and easy plug-and-play Installation
✅Ultimate9 EVC's feature a memory function that saves the drivers preferred settings
✅Ultimate 9's EVC throttle controller features 4-Driving modes with 20 tuning settings for the ultimate driving
experience
✅Improved throttle responses with adjusted throttle sensitivity
✅Better towing performance
✅Improved fuel efficiency
✅Compatible with all types of electronic throttle systems
✅Can be used without affecting your vehicle's warranty or emissions compliance
✅Ultimate 9 offers a lifetime warranty on all throttle controllers
📃Ultimate 9 EVC Throttle Controller Quick Start Guide
This Ultimate 9 EVC throttle controller is suitable for the following makes and models:
Make
Model/s
Hyundai
Accent (2011 Onwards RB)
i30 (2012-2017 GD)
i45 (2010-2014 YF)
Santa Fe (2007-2012 Highlander 2nd Gen)
i10 (2013-2019 2nd Gen)
Avante (2011-2015 - Elantra)
Elantra (2011-2015)
Santa Fe (2015-2018)
Veloster (2011-2018)
Kia
Cerato (2013-2018 3rd Gen)
Forte (2014-2018 2nd Gen)
Carnival (2015 Onwards 3rd Gen)
Rio (2011-2017 UB)
Sorento (2010-2014 2nd Gen)
Ceed (2012-2018 2nd Gen - JD)
Cerato (2009-2013 2nd Gen)
Grand Carnivale (2015 Onwards 3rd Gen)
Proceed GT (2013-2018)
Sorento (2018-2020 GT)
MG
5 (2012 Onwards)
Changan
CS20
Want to know more about the benefits of Ultimate 9's EVC Throttle Controllers? Watch the video below 🎬👇
CODE: EVC611L
Dimensions
| | |
| --- | --- |
| Length | 15 cm |
| Width | 9 cm |
| Height | 5.5 cm |
| Weight | 0.25 kg |