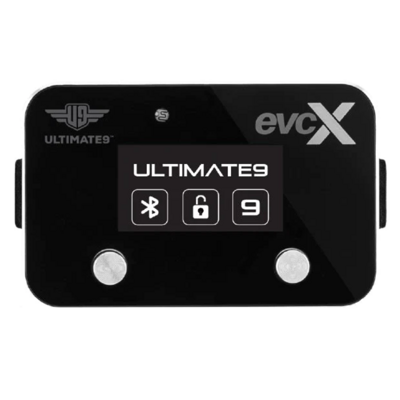 Free shipping Australia Wide ✈️
Ultimate 9 evcX Throttle Controllers X610
MODKINGZ EXCLUSIVE PRICE
$349 $299
Ultimate 9 evcX Throttle Controllers X610
Ultimate 9 evcX throttle controllers are advanced electronic devices designed to improve the responsiveness and overall performance of a vehicle's throttle. The evcX controller utilises advanced technology to enhance the signal sent from the accelerator pedal to the vehicle's electronic control unit (ECU), resulting in faster throttle response and improved acceleration.
These throttle controllers are fully adjustable and allow the driver to customise the throttle response to their personal driving style. With a quick and easy installation process, the evcX can be mounted in any vehicle with an electronic throttle control system. The device can also be easily removed when required.
The Ultimate 9 EVC X throttle controllers are designed with safety in mind and will not affect the vehicle's warranty or emissions compliance. With its customizable settings, wireless control abilities, easy installation, and safety features, the EVC X offers a significant improvement in throttle response and acceleration, making it a must-have upgrade for any driving enthusiast.
Benefits & Features 😍
✅Effortless and easy plug-and-play Installation
✅evcX Throttle Controllers feature a bluetooth design which allows the drive to connect and be controlled wirelessly through the Ultimate 9 TC app
✅Fresh new design featuring USB points on either side of the drive for more mounting options
✅Ultimate9 evcX throttle controllers feature a memory function that saves the drivers preferred settings
✅evcX throttle controller feature 8-Driving modes, 32 tuning modes and the highly anticipated locking mode
✅Improved throttle responses with adjusted throttle sensitivity
✅Better towing performance & Improved fuel efficiency
✅More comprehensive screen display with a self-dimming feature
✅Compatible with all types of electronic throttle systems
✅Can be used without affecting your vehicle's warranty or emissions compliance
✅Ultimate 9 offers a lifetime warranty on all throttle controllers
✅Features a locking mode which disables all throttle input from the accelerator and immobilising your vehicle, adding extra protection for your vehicle.
📃Ultimate 9 EVC Throttle Controller Quick Start Guide
This Ultimate 9 evcX throttle controller is suitable for the following models;
Make
Model/s
Hyundai
Entourage (2006-2009)
H1 (2007 Onwards)
i30 (2007-2012 FD)
Santa Fe (2013-2015)
iLoad (2007 Onwards - DIESEL ONLY)
iMax (2007 Onwards - DIESEL ONLY)
Kia
K4 (2014 Onwards)
Grand Carnival (2005-2014 2nd Gen)
Cerato (2004-2009 1st Gen)
Grand Carnival (2006-2014 2nd Gen)
Ssangyong
Tivoli (2019 Onwards)
Korando (2019 Onwards C300 3rd Gen)
Musso (2018 Onwards Q200)
Rexton (2017 Onwards Y400)
Rhino (2018 Onwards Q200)
Korando (2010-2019 C200 3rd Gen)
Mahindra
Alturas G4 (2017 Onwards)
Want to know more about the benefits of Ultimate 9's evcX Throttle Controllers? Watch the video below🎬👇
CODE: X610
Dimensions
| | |
| --- | --- |
| Length | 15 cm |
| Width | 9 cm |
| Height | 5.5 cm |
| Weight | 0.25 kg |