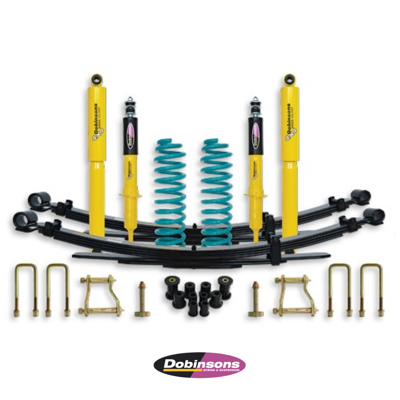 Dobinsons (2"/50mm) Twin-Tube Nitro Gas Lift Kit to suit Toyota Hilux N80 2015 On (Dual Cab Ver)
From $2,024.04
Dobinsons (2"/50mm) Twin-Tube Nitro Gas Lift Kit to suit Toyota Hilux N80 2015 On (Dual Cab Ver)
The 2" Dobinson's Twin-Tube Nitro Gas Lift Kit is a premium suspension upgrade designed to enhance the off-road performance and on-road handling of your Toyota N80 Hilux. This Dobinson lift kit includes high-quality front and rear shocks, coil springs, and all necessary hardware for a straightforward installation.
The nitrogen gas-charged shocks feature a twin-tube design for maximum durability and improved heat dissipation, while the coil springs are engineered to provide exceptional ride comfort and increased ground clearance. With the 2" Dobinsons Twin-Tube Nitro Gas Lift Kit installed, your N80 Hilux will be able to tackle even the toughest terrain with ease, while maintaining a smooth and comfortable ride on pavement.
Benefits & Features😍
✅Improved off-Road capabilities
✅Provides your vehicle with enhanced performance and durability
✅Manufactured from high-quality materials
✅Designed to withstand tough conditions
✅Better suspension performance
✅Increased carrying capacity
✅Can increase ground clearance
Toyota Hilux Lift Kit Components
✅1 x Front Coil Spring(PAIR)
✅2 x Front Shock Absorbers
✅2 x Rear Shock Absorbers
✅2 x Rear Leaf Springs
✅2 x Front Strut Top Cap
✅2 x Front Strut Assembly LAB - ASSEMBLE STRUT(SERVICE)
✅2 x Rear U-Bolt Kit
✅2 x Rear Pins
✅2 x Rear Shackle
✅1 x Rear Shackle Bush Kit
⚠️Does Not Fit Hilux Rouge 2022+ With Wider Wheel Track OR Hilux GR Sport 2022+ With Wider Wheel Track⚠️
✨Dobinson Lift Kit Warranty Information
Wanting to find out more information about your Dobinsons Toyota Hilux Lift Kit's warranty? Click Here
👨‍🔧Installation
Once the lift kit has been purchased, someone from our sales team will be in touch to organise our next available installation date. Please allow one business day for your Dobinson lift kit to be completed on the day of your install.
📦Packaging & Shipping✈️
When purchased, this suspension lift kit will be delivered via one of Modkingz's trusted transportation companies. This is an all-inclusive service, designed to ensure extremely fast delivery of your order. Your suspension components will be packaged as securely as possible to make sure your items are protected during transit, we recommend adding freight insurance to your order to cover possible damages.
ℹ️ Additional information
Please note, depending on your vehicle requirements you kit may need additional items which may incur an additional cost. If you have any further questions regarding lift kits, we recommend giving us a call on 02 8880 4628 or click here to find out more information.
CODE: