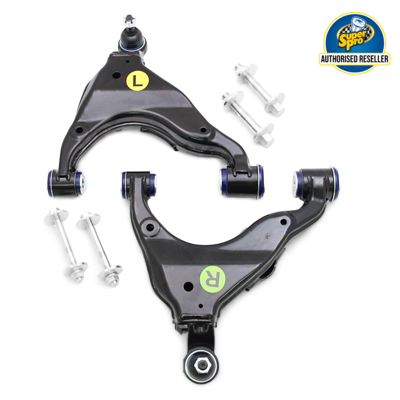 SuperPro Front Lower Standard Control Arm Kit to suit Toyota Prado, FJ Cruiser & Lexus GX 460 (non KDSS vehicles)
$827.18
Front Lower Standard Control Arm Kit to suit Toyota Prado, FJ Cruiser & Lexus GX 460 (non KDSS vehicles)
SuperPro 4x4 Control Arms are designed, tested and produced in Australia, to guarantee the highest quality development with locally sourced reliable materials.
Upgrade your 4x4 with this SuperPro Fixed Front Upper Control Arms! Achieve correct wheel alignment, extra clearance and articulation by installing a stronger control arm, designed for harsh Aussie conditions.
Features:
✅ Lifetime Warranty
✅ Increases your 4WD's Performance & Handling
✅ Designed to resolve wheel alignment issues when lifting your 4x4
✅ High grade steel for improved strength
✅ Included Bushings Kit by SuperPro to reduce the amount of arm movement
✅ Increased clearance between control arms and springs when at full articulation
✅ Easy Installation
Includes:
✅ Complete with two arm assemblies
✅ Advanced Bushings (SuperPro)
✅ Pre-Installed High Quality Up-Rated Ball Joints
This SuperPro Front Lower Control Arm is Suitable for Toyota Prado, FJ Cruiser & Lexus GX 460 (Non KDSS Vehicles only).
⚠️SuperPro strongly advises that both control arms be replaced together to maintain correct suspension geometry and prevent alignment issues ⚠️
ℹ️ Want to find out more about this SuperPro Control Arm? Watch the video below 👇🎬
CODE: TRC483
Dimensions
| | |
| --- | --- |
| Length | 46 cm |
| Width | 42 cm |
| Height | 19.3 cm |
| Weight | 20 kg |